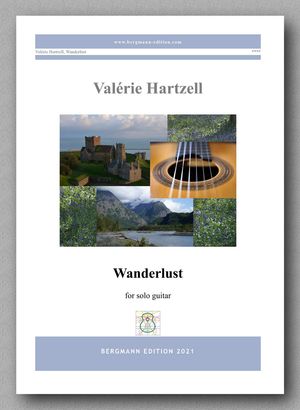 I am honoured and very excited to have my music published through Bergmann Editions.
My trilogy, Wanderlust, is now published! You can either self print the score as a PDF or buy a physical copy of the score. Go to: https://bergmann-edition.com/products/hartzell-wanderlust?variant=32392094908499
Wanderlust consists of three short stories: Through the Ages, Story of Us, and It Takes Two.
Through the Ages is a travel through time, Story of Us is the physical travel, and It Takes Two travels along the length of the guitar. The entire suite is dedicated to American guitarist Dr Candice Mowbray, who is not only an accomplished performer but also a champion of women composers. She has given lecture-recitals on women composers at prestigious music series such as the Guitar Foundation of America, the Ibero-American Guitar Festival at the Smithsonian Museum of the American Indian, and the John E. Marlow Guitar Series. Like my composition, Candice travels through history and time, bringing women's music to light.
My score, Three Nordic Sketches, can now be purchased! You can either download the sco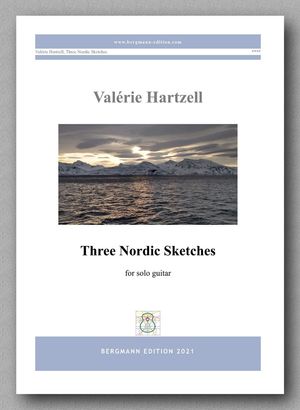 re or buy a hard copy of the score. Please go to: https://bergmann-edition.com/collections/hartzell-valerie/products/hartzell-three-nordic-sketches
Three Nordic Sketches were written for the March 2020 tour of Norway. I had five solo concerts on the MV Aurora, which voyaged to the Arctic Circle off the Norwegian coast. I am dedicating the entire set of pieces to Heike Matthiesen, an internationally renowned German concert guitarist. She champions women in music by having created Women of the Classical Guitar, a website dedicated to women composers, luthiers, and performers, and with her recording Guitar Ladies, which has works that are exclusively written by women composers. Her playing and devotion inspired me to write this work.