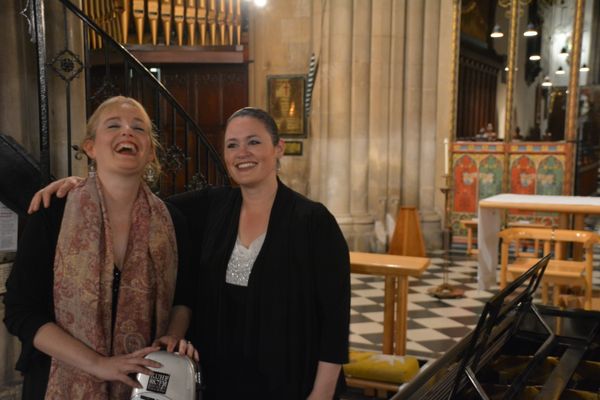 American guitarist,
Valérie Hartzell
, has performed on radio, television, in over 30 festivals, and is an international competition prize-winner in 8 competitions. As a solo artist she has performed for numerous performance arts societies, churches, and universities all over the U.S. and Europe. Ms. Hartzell has a Bachelor's from Peabody Conservatory where she studied with Manuel Barrueco on scholarship and a Master's from Radford University where she was awarded a Graduate Teaching Fellowship. She has two recordings;
Ex Tenebris Lux
and
Presti
which were recorded at the Houston Public Radio studios in Houston. Currently, she resides in Bedfordshire, England where she maintains an active solo and chamber music career.
www.valeriehartzell.co.uk
Alaskan pianist,
Tamara McCoy,
has performed all over the U.S, and over-seas in Russia, the Czech Republic, and Brazil. She received her Bachelor's degree in Piano Performance at Radford University as well as the MTNA STAR award for outstanding teaching ability. Tamara obtained her Masters and Doctoral degrees in Piano Performance at the University of Kentucky. Tamara performs regularly with the Anchorage Opera Chorus, serves as Music Director at the Anchorage Unitarian Universalist Fellowship and is Adjunct Faculty at the Alaska Pacific University.
mccoypianostudio.yolasite.com
Valérie
and
Tamara
met in 1997 while Tamara was working on her Bachelor's Degree and Valérie on her Master's Degree at Radford University and became fast friends. In 2011 Valérie moved to Alaska and renewed a collaboration with the Alaskan pianist and singer. When Valérie moved to England she planned a tour in 2014 of Alaska and she collaborated with Tamara on several of the concerts including University of Alaska at Anchorage and Anchorage Lutheran. Duo Amiche was officially founded in 2015 after Tamara was awarded an Individual Artist Award from the Rasmuson Foundation of Alaska. This grant allowed the duo to perform eleven concerts all over Alaska in April 2016 including Homer Council on the Arts, the Performing Arts Society of Kenai and Alaska Pacific University. They performed works for piano and guitar, voice and guitar, and solo works for their respective instruments. In May 2016 their seven-concert tour of England included performances at the Attenborough Arts Centre at University of Leicester, the
Holywell Room in Oxford, St. Paul's Church in Bedford and at the 1901Arts Club where they made their London debut